About Us
Welcome to our web site Sicilytransfer.com.

As a result of our booking system and the experience acquired during the ten-years activity in tourism, specialized in transfers and excursions, we are happy to present the new web site of on-line booking services.
The Sicilytransfer.com is full of experience and capacity to offer their services at all international airports of Sicily.

Besides of the Taxi service you can request an excursion and package tour with or without a tour guide.

The Sicilytransfer.com is active on 365 days during a year and 24 hours a day.

The agency has available to vehicles of the best quality, safe and comfortable, as well as our drivers that can guarantee punctuality, courtesy and efficiency.
To make a booking it needs only to fill in a form indicating the information required, the detailed confirmation of the booking should be sent via e-mail as a result of the reservation effected.

IMPORTANTLY: If your flight doesn't leave in time and/or should arrive lately please DON'T WORRY, our driver will awaiting for you at the airport without any extra payment to be charged.
The operative centre is provided with the monitoring system for the flights and is able to inform the drivers constantly.
Notice: your booking will be accepted after the payment effected.
We don't take into consideration any incomplete or incorrect reservation and reject if any.
All payments effected by the system SSL 128 bit 'Secure Sockets Layer' HTTPS.
For more details please contact: info@sicilytransfer.com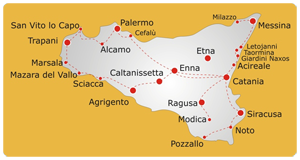 Last minute
Catania Airport - Taormina
From 135,00 €
Catania Airport - Giardini Naxos
From 135,00 €
Catania Airport - Letojanni
From 135,00 €
Trapani Airport - Mazara del Vallo
From 77,00 €
Trapani Airport - Trapani
From 35,00 €
Palermo Airport - Terrasini
From 40,00 €